Mahalo for Being You.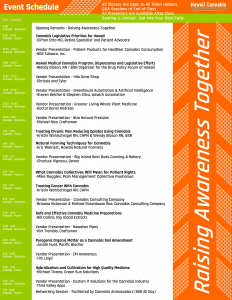 We couldn't fit all the gratitude on one page so we create a special mahalo page. Please check it out and give thanks for all the attendees, patients, caregivers, sponsors, presenters, volunteers, vendors, artists and other local businesses who made this event successful. Visit the Hawaii Cannabis Gratitude page.
Educational Conference
Classes for parents, patients, caregivers, Doctors, Nurses, legislators, business owners and entrepreneurs. Come learn about whole plant medicine, your endocannabinoid system, Cannabis treatments, dosing regimes, extracts, oils, tinctures, legal and legislative issues, lab testing, standards, cultivation and sourcing your own safe, legal, affordable and steady supply of Cannabis medicine in Hawaii.
Trade Show and Exhibit Hall
Come see the latest Cannabis products and services in a safe, relaxed atmosphere of compassion and understanding. See and interact with Cannabis informational displays, art exhibits, purchase legal products and services, listen to live music and get to know your friends.
Meet and Greet Industry Networking Sessions
Meet industry experts in the professional networking sessions hosted by our Cannabis Ambassadors. Get to know our state's top Doctors, Nurses, dispensary owners, suppliers, consultants, cultivators, lawyers, investors, medicine makers and chefs working in our emerging local Cannabis medical and hemp economy. Learn how to build and share your brand in a knowledge exchange like no other.
Patient / Caregiver Support and Cannabis Advocacy
Support patients without a voice in the legal and legislative process. Help us create sensible legislation. Learn about the new Patient protection Act and the latest efforts to normalize Cannabis for adult use. Legislators, State and County officials are invited. Lots of actionable information will be provided for beginners and experts interested in helping protect patients rights.
How to Get Involved: