Jingle Bells.
Cannabis patients and caregivers require many unique products and services. December, the perfect time to attract the attention of gift buyers.
You bring the best products. We have a place for your right in front of the patients and caregivers that need specialty products and services.
Cost $100
The cost is negotiable and consideration will be given for your gift to the raffle. All attendees will receive on ticket for a raffle and we'll make the announcements in the ballroom
All vendors receive the following:
Two all access passes
One table and two chairs setup in ballroom

Bring your own banner for the front of your table
Bring your own, no-thc products to sell.

Business listing on http://HawaiiCannabis.org
Business listing in the event guide
Business listing in vendor posters on-site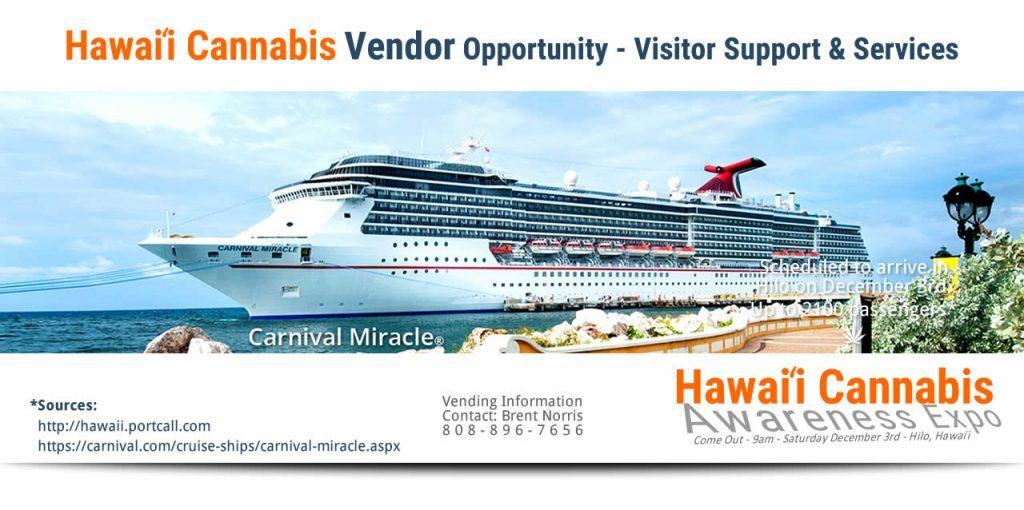 By the numbers…
14,492 Cannabis Patients in Hawaii – 6,101 licensed patients on Hawaii Island
–Hawaii State Department of Health
Marketing and promotions will start on October 1st and will run through the end of the year.
Vending Rules
You will not sell Cannabis or foods with Cannabis in them or any illegal narcotic.  No Cannabis sales, active food sales, Salvia, Spice, K2 or any other similar substance will be tolerated. Not even to authorized medical patients.  Your booth will be shut down immediately. There is a zero tolerance policy that will be strictly enforced. All fees and your space will be forfeited.
All parties must be listed on the application.   Sub leasing or transferring of booth spaces is not allowed.
There is no camping allowed in Kalakaua park.
Food sales are not allowed in the park unless they are approved via application.  All foods must be factory packaged and sealed.
For public safety reasons, vendors do not get strolling privileges and are not permitted to stand outside of their booths offering samples or products to people. We are directing all foot traffic through the tradeshow and tables.
To preserve the free speech aspect of our permit, no sound amplification is allowed.  No bullhorns, speakers, stereos or amplification of any type is allowed during the event.
I will not sell any merchandise using Hawaii Cannabis' name or image.
Pets of any type are not allowed on site -except service animals!
Vendors are responsible for their own taxes.
I agree to stay within my booth space ie; no expansion.  We are required to maintain certain distances for foot traffic.  Moving or expanding your booth is in violation of our permit.
I agree to remove all my booth materials from my area upon exit. Everything I brought will leave with me.
Creating of private medicating areas within your booth space is prohibited.  All areas of your booth must be open to all of the public at all times.
If I am selling products that require the purchaser to be 18 or older, I will check ID's
No Styrofoam.  No Styrofoam may be brought on site.
 I will not distribute any stickers for free.  You may sell stickers to attendees as our hope is that if they've bought it they will value it more.
No fire or flame of any kinda inside the venue.
Hate groups and hate speech are not allowed.  You must conduct yourself in a courteous and professional manor at all times.  No confrontational or aggressive behavior will be tolerated.
All cancellations will be charged a 30% cancellation fee.  No cancellations will be taken after November 1st. To cancel your participation send an email to support@

null

hawaiicannabis.org.
I agree and understand that
All applications go into review once they are paid in full.  Until an application is paid in full it is not processed.
The longer I wait to pay, the less likely the spaces I've selected will be available.  I understand that if the spaces I have selected are no longer available I will be placed in another space in the same room.
I understand my booth may be reassigned or moved.  I am not guaranteed any specific space, just a location within the price category for which I have paid.  If I am provided a space in a different price category I will be given a refund for the difference between the two categories.
I am vending at my own risk.  Hawaii Cannabis Organization makes no claims or guarantees as to my sales or condition of the area where my table will be set up.  I understand there no guarantee of the safety for anything left unattended at the venue. If I choose to not load out my products and/or booth in a timely fashion (30 min before or after start time) Hawaii Cannabis Organization makes no guarantee of its safety. Vendors leave products and their booth at their own risk.

More Ways to Get Involved: