You are Invited to a Special Evening
of Education and Awareness
[cannabis_note note_color="#99CC33″ text_color="#ffffff"]Friday August 12th 5-7 pm – Hawai'i Innovation Center at Hilo  – Downtown 117 Keawe Street[/cannabis_note]
Cannabinoids: A new hope for pain and symptom management
Dr. David Sine and Don Anderson Pharm.D will share how they have utilized CBD & THC blended oils in Pain & Symptom Management of Pediatric Palliative Care Patients. Their study is still active but already have clear evidence of an ability to manage/treat pain and related symptoms in the pediatric palliative population. They will share their design, methods, and approach of their study to explore how the use of CBD/THC blends can be effective for various symptoms including, but not limited to Pain, Nausea, Insomnia, Contractures, Anorexia, Anxiety, and Seizures.
Question and Answer Discussion Following the Presentation.

David Sine, M.D.

Dr. David Sine received his Doctor of Medicine in 1993 and immediately pursued his specialized credentialing in pediatric medicine, with a focus on medically fragile children. He currently serves as the Medical Director of Pediatric Palliative Care for Central Valley Children's Hospital, Hinds Hospice, and Tulare Hospice in Central California. Dr. Sine is involved in Complementary Alternative Medicine and specializes in the use of medical cannabis in his pediatric patient populations, and works closely with local regulators and law enforcement to help establish best practices for the use of cannabis with children.

Don Anderson, Pharm.D.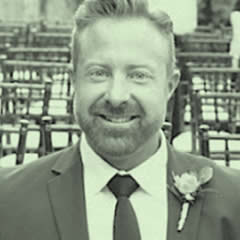 Dr. Don Anderson received his Doctor of Pharmacy degree in 2002 and quickly began his career in pediatric pharmaceutical care with an emphasis on clinical pharmacotherapy management. He serves as a pharmacotherapy advisor to both academic and private sector organizations looking to bring innovative, high quality and consistent forms of cannabis to select populations. Dr. Anderson and his team are providing significant improvement to those most in need. He has developed a repeatable, quality, and quantity tested line of cannabis blends uniquely formulated for each of his patients. He has successfully applied the art of custom compounding to cannabis based medicines, which is demonstrating highly effective outcomes in each patient segment.
[cannabis_button url="https://hawaiicannabis.org/wp-content/uploads/ecs-sine-anderson-cannabinoids-2016b-1.jpg" target="blank" style="flat" background="#FF9900″ size="5″ center="yes" radius="0″ icon="icon: arrow-circle-right" text_shadow="0px 0px 0px #000000″ title="Download Printable Flyer for Special Event – Cannabinoids: A new hope for pain and symptom management"]Download Printable Flyer[/cannabis_button]
Seating is limited. Reserve a seat using form below.
[contact-form-7 id="19824″ title="RSVP_Cannabinoids:"]
Mahalo to our event sponsors:


Contact : Brent Norris 808-896-7656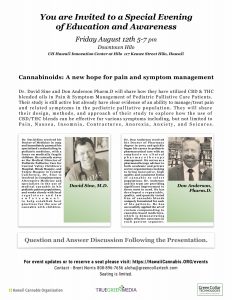 Event Location