Love is Complete, Cannabis is complete.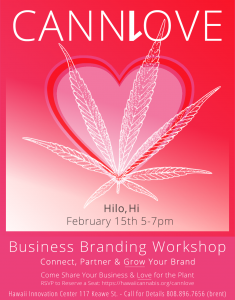 Event passed… You're Invited to a special evening of Cannabis business conversation for lovers of the Cannabis plant. Presentations will be given on Cannabis business branding, design, legal and legislative issues followed by a discussion on starting and growing your own Cannabis business in Hawaii. We're creating a special intimate setting to celebrate in an atmosphere open to personal and business growth.
If you're interested in sharing your business brand with others, please indicate in the RSVP form below. We'll provide additional details for presenting slides, audio, video etc.
Like love, it's free to attend and share. So Come Connect, Partner & Grow Your Brand – Come Share Your Business & Love for the Plant
Thursday February 15th Hawaii Innovation Center 117 Keawe Street
Call or email with any questions. 808.896.7656 (brent)
Alcohol and drug-free event at the University. This is a safe space for everyone to freely share their ideas.
Please medicate before entering the property. We'd recommend a nice uplifting Sativa.