MONTEVIDEO, Uruguay (AP) — Uruguay is home to the world's first government-regulated national marketplace for cannabis, so it's not surprising that growers have a competition for best marijuana.
At the Cannabis Cup over the weekend, a panel of regional experts judged entries for aroma, flavor, effects and strength before picking the winners of the best indoor and outdoor crops.
Silver cups were awarded to the winners, such as Guillermo Amandola, who won in the self-grown outdoor crop category.
All the competitors received a jar with samples from others in the tournament and were allowed to taste some of the finest cannabis in the South American country.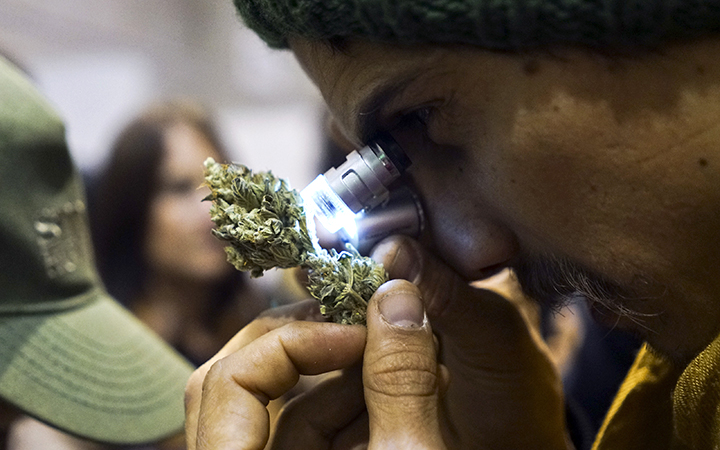 A man examines a marijuana bud during the fifth annual Cannabis Cup, a competition for best marijuana, in Montevideo, Uruguay. AP Photo/Matilde Campodonico
The contest was held in Montevideo at a private building where bands played rock music while competitors smoked joints and vendors sold food and marijuana paraphernalia. Alcohol was banned.
Uruguay legalized the cultivation and sale of marijuana in 2013 in an effort to fight rising homicide and crime rates associated with drug trafficking. The law allows the growing of cannabis by licensed individuals, the formation of growers and users clubs, and the sale by pharmacies of 40 grams of marijuana a month to registered users.