Make this 4/20 a true adventure! You and three friends could be soaking up nature's best at Aspen Canyon Ranch in Colorado by entering in our #420sweepstakes.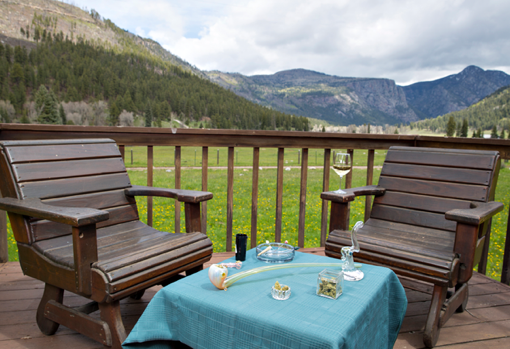 Aspen Canyon Ranch is a cannabis-friendly, 450-acre private mountain resort located in Parshall, CO. The ranch offers people a place to openly enjoy cannabis while in nature. Located just 90 minutes outside Denver, Aspen Canyon is nestled among beautiful mountains, tall trees, and the refreshing William Forks river.
Winners will receive a full weekend stay April 21st – 23rd at the ranch's River House Cabin, with all food, horseback riding, and fly fishing included in the stay. We'll also provide a $1,000 travel voucher to cover travel for yourself and three guests to the ranch. Though you must bring your own cannabis to enjoy, local dispensaries have agreed to treat guests as part of the community by supplying them with discounts of up to 20% off all purchases.
How to Enter
Head to Leafly's newly created Products catalog (Leafly.com/products) and leave reviews for products that you've tried. You're an expert in the industry and we want to share your opinions and experiences with other cannabis consumers!
Make sure you're on a web browser, sign into your Leafly account (if you don't already have an account, create your free account here), and start leaving reviews.
Head to Leafly.com/products
Leave a review for any product(s) you've tried
Include hashtag #420sweepstakes in the review (reviews must include the hashtag to count as contest entries)
The contest starts March 20th at 12:00 p.m. PST and ends March 27th at 11:59 p.m. PST. Winners will be randomly selected and announced on Friday, March 31st.
Key rules for valid entry:
One entry per day per username.
Leave a quality, helpful review. Spam entries won't count as a submission. For more information on our review policy, check out our review policy guidelines.
All participants must be 21+
See full sweepstakes terms and conditions and rules for entry below.
---
Leafly® & Aspen Canyon Cannabis Ranch Flyaway: Win the 420 Adventure of a Lifetime Official Rules
NO PURCHASE OF ANY KIND IS NECESSARY TO ENTER OR WIN. VOID WHERE PROHIBITED.
Eligibility: The Leafly® & Aspen Canyon Cannabis Ranch Flyaway: Win the 420 Adventure of a Lifetime (the "Sweepstakes ") is sponsored by Leafly Holdings, Inc. ("Leafly") and _Aspen Canyon Ranch, LLC, a Colorado limited liability company, ("Aspen Canyon Cannabis Ranch"), collectively ("Sponsors"), each, a ("Sponsor") and open only to legal residents of the 50 United States and the District of Columbia who are age 21 years and older as of the beginning of the Sweepstakes Period. Employees, officers, and directors of the Sponsors, and the immediate family members (including spouses, unmarried partners, parents, grandparents, siblings, children and grandchildren) of any such employee, officer or director, are not eligible to enter the Sweepstakes or win a prize. The Sweepstakes are subject to all applicable federal, state and local laws and regulations and is void where prohibited by law.

Agreement to Official Rules: The Sweepstakes will be governed by these Official Rules. By participating in the Sweepstakes, you agree to be fully and unconditionally bound to these Official Rules, and you represent and warrant that you meet the eligibility requirements set forth herein.

Sweepstakes Period: The Sweepstakes begin at 12:01 p.m. Pacific Time ("PT"), March 20, 2017, and end at 11:59 p.m. PT, March 27, 2017 (the "Sweepstakes Period"). Entries received after the Sweepstakes Period shall be disqualified. Sponsor's computer is the official time-keeping device for the Sweepstakes.

How to Enter:

Complete the steps set forth below (each an "Entry" and collectively, the "Entries"). Each Entry must comply with the Submission Guidelines below. Leafly reserves the right, in its sole discretion, to reject or disqualify any Entry that does not comply with the Submission Guidelines or is otherwise inappropriate, offensive, not keeping with Leafly's image or if it is determined that the entrant has not complied with these Official Rules.
To enter: During the Sweepstakes Period, (1) go to Leafly.com/products; (2) Leave a review for any product you've tried; (3) include the hashtag #420sweepstakes in the review that you are leaving.

Alternative Entry Method: During the Contest Period, (1) send email to support@

null

leafly.com, (2) Write #420sweepstakes in subject line, (3) write your full name, email address, and mailing address in the body of the email.
Limit one (1) Entry per person, per day during the Sweepstakes Period. Any attempt to obtain more than the permissible number of Entries by using multiple/different user accounts or otherwise may void your Entries and/or disqualify you from the Sweepstakes as determined by Leafly in its sole discretion. Any use of robotic, repetitive, automatic, programmed or similar entry methods or agents (including, but not limited to, Sweepstakes entry services) will void all Entries by that entrant.

If you choose to participate using your mobile device, message and data rates may apply. See your wireless provider for pricing plan and participation details.

Submission Guidelines: To be eligible for a chance to win, an Entry must not do any of the following (the "Submission Guidelines"):
Violate any third-party right, including any copyright, trademark, patent, trade secret, moral right, privacy right, right of publicity, or any other property right;

Be, include or promote anything unlawful, harassing, abusive, tortious, derogatory, threatening, harmful, vulgar, defamatory, libelous, pornographic, obscene, offensive, or otherwise objectionable; or

Depict a child or other person under age 21 years of age, or otherwise suggest the presence of such person, or include content that might be appealing to persons under 21.

Winner Selection/Odds. One (1) winner will be randomly selected from all eligible entries on or about noon PT on March 31, 2017.

Winner Notification and Prize Acceptance: The potential winner will be notified via email. Potential winner(s) may be required to complete and return an Affidavit of Eligibility and Liability/Publicity Release (except where prohibited), IRS W-9 form, assignment of copyright, and/or other requested documentation within two (2) days of date of notification. If such documents and/or responses are not returned within the specified time period, a prize or prize notification is returned as undeliverable, Leafly is unable to contact a potential winner, or a potential winner is not in compliance with these Official Rules, the prize will be forfeited and, at Leafly's discretion, an alternate winner may (but is not required to) be selected. If no alternate selection is conducted for a prize, the prize will not be awarded. Leafly shall not have any liability for a winner's failure to receive notices due to spam, junk, email or other security settings or winners' provision of incorrect or otherwise nonfunctioning contact information. Leafly's decisions will be final in all matters relating to this Sweepstakes.

Prizes: One (1) winner will be awarded the prizes as detailed below. Total approximate retail value for all prizes is $3,000. No cash or other prize substitution permitted except at Sponsor's discretion. Prizes are non-transferable. Sponsor is not responsible for replacing any price in the event of postponement or cancellation of ticketed events. The prize includes:
One (1) travel voucher for the use of airfare and rental car in the form of a gift card to be used for travel to and from Aspen Canyon Cannabis Ranch; $1000.00 value;

One (1) horseback adventure excursion at Aspen Canyon Cannabis Ranch for four (4) people; $300.00 value;

One (1) fly-fishing excursion at Aspen Canyon Cannabis Ranch for four (4) people; $250.00 value

One (1) two-night voucher for Lodging & Food at Aspen Canyon Cannabis Ranch for four (4) people; $1200.00 value

One Leafly swag & gear bag; $250.00 value.

Additional Prize Details and Limitations: Winner is solely responsible for booking all airline & rental car travel and Aspen Canyon Cannabis Ranch accommodations to, from and during the Winner's stay at Aspen Canyon Cannabis Ranch, and for any travel or hotel/accommodation costs, fees and other charges in excess of the various vouchers & prize amounts. Without limiting the foregoing, Winner is responsible for any and all applicable fees, service charges, surcharges or passenger facility charges and all insurance costs, federal, state, local and foreign taxes (if any), gratuities, meals, incidentals and any other unspecified expenses associated with acceptance or use of a prize. Reservations and availability of accommodations and excursions at Aspen Canyon Cannabis Ranch are issued by and under the control of Aspen Canyon Cannabis Ranch, which may modify, change, or cancel at its discretion. Lost, stolen, damaged or destroyed travel and hotel vouchers will not be replaced.

Publicity Release: Acceptance of any prize constitutes permission for Leafly and its designees to use winner's name, Platform User Account handle and/or likeness for advertising and marketing purposes, without additional compensation, in any media, worldwide, unless otherwise prohibited by law.

Releases, Waivers and Limitation of Liability: By participating in the Sweepstakes, you hereby release Leafly, Aspen Canyon Cannabis Ranch, and their respective parent companies, affiliates, and promotional partners, and each of their respective officers, directors, employees, and agents (the "Released Parties") from and against any and all legal claims, losses, injuries, demands, damages, and/or causes of actions that may occur, directly or indirectly, whether caused by negligence or not, including without limitation for personal injury, bodily injury, property damage, violation of publicity or privacy, or defamation, arising from: (i) your participation in the Sweepstakes and submission of an Entry, and/or your acceptance, possession, use or misuse of any prize or any portion thereof; (ii) any claims of infringement related to Leafly's use of an Entry submitted in connection with the Sweepstakes; (iii) technical failures of any kind, including without limitation, the malfunctioning of any computer, cable, network, hardware or software; (iv) the unavailability of any transmissions or internet service; (v) unauthorized human intervention in any part of the entry process or the Sweepstakes; (vi) electronic or human error which may occur in the administration of the Sweepstakes or processing of entries or votes; and (vii) Sponsor's use of your Entry, name or likeness. Further, you hereby acknowledge that Released Parties have neither made nor are in any manner responsible or liable for any warranty, representation or guarantee, express or implied, in fact or in law, relative to a prize awarded in connection with the Sweepstakes. The releases hereunder are intended to apply to all claims known and not known or suspected to exist with the intent of waiving the effect of laws requiring the intent to release future unknown claims. If, for any reason, the fairness or integrity of the Sweepstakes becomes compromised, Leafly reserves the right to terminate or modify the Sweepstakes, and to disqualify any individual who tampers with the entry process or the administration of the Sweepstakes.

Governing Law; Disputes: This Sweepstakes is governed by the laws of the State of Washington, without regard to its conflict of laws rules. By entering, entrants and winners hereby submit to the jurisdiction and venue of the federal, state and local courts located in Seattle, Washington. Any attempt by an entrant or any other individual to deliberately damage any website related to Leafly or the Sweepstakes may be in violation of criminal and civil laws, and should such an attempt be made, Leafly reserves the right to seek damages from such entrant to the fullest extent permitted by law. BY ENTERING THE SWEEPSTAKES, ENTRANT AGREES THAT, TO THE MAXIMUM EXTENT PERMITTED BY LAW: (1) ANY AND ALL DISPUTES, CLAIMS AND CAUSES OF ACTION ARISING OUT OF OR CONNECTED WITH THE SWEEPSTAKES, OR ANY PRIZE AWARDED, WILL BE RESOLVED INDIVIDUALLY, WITHOUT RESORT TO ANY FORM OF CLASS ACTION; (2) ANY AND ALL CLAIMS, JUDGMENTS AND AWARDS WILL BE LIMITED TO ACTUAL THIRD-PARTY, OUT-OF-POCKET COSTS INCURRED (IF ANY), NOT TO EXCEED TWO HUNDRED FIFTY DOLLARS ($250.00), BUT IN NO EVENT WILL ATTORNEYS' FEES BE AWARDED OR RECOVERABLE; (3) UNDER NO CIRCUMSTANCES WILL ANY ENTRANT BE PERMITTED TO OBTAIN ANY AWARD FOR, AND ENTRANT HEREBY KNOWINGLY AND EXPRESSLY WAIVES ALL RIGHTS TO SEEK, PUNITIVE, INCIDENTAL, CONSEQUENTIAL OR SPECIAL DAMAGES, LOST PROFITS AND/OR ANY OTHER DAMAGES, OTHER THAN ACTUAL OUT-OF-POCKET EXPENSES NOT TO EXCEED TWO HUNDRED FIFTY DOLLARS ($250.00), AND/OR ANY RIGHTS TO HAVE DAMAGES MULTIPLIED OR OTHERWISE INCREASED; AND (4) ENTRANT'S REMEDIES ARE LIMITED TO A CLAIM FOR MONEY DAMAGES (IF ANY) AND ENTRANT IRREVOCABLY WAIVES ANY RIGHT TO SEEK INJUNCTIVE OR EQUITABLE RELIEF. SOME JURISDICTIONS DO NOT ALLOW THE LIMITATIONS OR EXCLUSION OF LIABILITY FOR INCIDENTAL OR CONSEQUENTIAL DAMAGES, SO THE ABOVE MAY NOT APPLY TO YOU.

Privacy Policy: Information submitted with an Entry or attempted Entry is subject to Leafly's Privacy Policy, available at: http://www.leafly.com/company/privacy-policy/.

Winner's List: To request a list of winners: (a) send a stamped self-addressed envelope to: Marketing – Leafly & Aspen Canyon Cannabis Ranch Flyaway: Win the 420 Adventure of a Lifetime Sweepstakes Winner's List, 71 Columbia Street, Suite 300, Seattle, WA 98104; or (b) email social@

null

leafly.com with Leafly & Aspen Canyon Cannabis Ranch Flyaway: Win the 420 Adventure of a Lifetime Sweepstakes Winner's List in the subject line.

Sponsor: Leafly Holdings, Inc., 71 Columbia Street, Suite 300, Seattle, WA 98104.
© 2017 Leafly Holdings, Inc. All rights reserved. Leafly® is a registered trademark of Leafly Holdings, Inc.