When the clock stuck midnight on Thursday, Dec. 15, and cannabis became legal for adults in Massachusetts, the streets of Boston were largely empty. Minus-eight degree weather has that effect.
At the cancelled State House rally, the pro-cannabis crowd was outnumbered by journalists looking to report on the state's historic milestone.
That same bitter cold cancelled a planned noontime rally on the Massachusetts State House steps. A few hearty hippies and a handful of twentysomethings braved the icy cold. But the pro-cannabis crowd was outnumbered by journalists looking to report on the state's historic milestone.
Legalization advocate Ellen Brown was undaunted.
"It's exciting to be the fifth state to allow adult recreational cannabis use," she told Leafly. Brown passed a joint among a small group of acquaintances as police stood by. "We hope this sets a precedent for all of New England. The Massachusetts medical marijuana program is terrible. Now patients can bypass that—the added expense, the mandatory registry—and purchase legally."
Perhaps more importantly, Brown added, "there's a vast amount of opportunity not just for corporations but for the everyday person to find their place in the industry."
Although weather wrecked most of the afternoon fun, there was a bigger celebration planned later Thursday night in the historic suburban town of Quincy.
"Everyone will be there," I was told. "A who's-who of pot in Massachusetts!"
Most importantly, the evening's festivities would be indoors, where things would be nice and cozy.
A Boston cannabis tech firm called Ardent, which makes a kitchen decarbing appliance called the Nova Precision Decarboxylator, played host to the "End of Prohibition" extravaganza at a swanky ballroom in Boston's suburbs to celebrate legalization's arrival in Massachusetts.
Shanel Lindsay, president of Ardent, displays a legal cannabis plant during the company's end-of-prohibition party in Quincy, Mass. Photo courtesy of Ardent.
The crowd looked like America
"I was one of the sixteen drafters of the ballot initiative," Ardent President Shanel Lindsay told Leafly. "I considered it an honor, a pleasure, and a duty to host the party. It was the first opportunity to show Massachusetts what the cannabis industry is and has the potential to be. This is an industry focusing on science, technology, and advancing people's access to tools that can improve their health and well being."
The crowd looked like America: all ages, many colors, half women, half men. But this was a cool crowd. Hip, trendy, well-heeled.
'It's our time, man! I knew I'd see an event like this in my lifetime, but not in this decade!'
Mark Ward, cannabis advocate and writer
"I've been to events like this before but never for something like this!" cannabis advocate and writer Mark Ward noted while packing a massive cone. "It's our time, man! I mean, I knew I'd see an event like this in my lifetime, but not in this decade!"
A bar and dance floor took up half the room. The rest was set up convention-style. Two rows of vendors served up edibles, resins, and waxes for guests to sample. Growers displayed their plants. Vendors hawked indoor hydroponics, ornate hand-blown glass dab rigs, and other high-end paraphernalia.
While perusing the displayed goods, I overheard an exchange that could only happen in Massachusetts.
"This pahty's wicked awesome. I did something like this once in Maine, but nothing this fancy! I mean that one was outside, in a bahn!"
"A bahn? Really? No hahm there!?"
"Yeah dude but it's a bahn!"
"But there's chahm in a bahn. So what's the hahm?
(This literally happened.)
Welcome to the party. Sign here.
After stopping to transcribe the Good Will Hunting moment, I found myself drawn to an indoor grow tent. It's perfect for the home growing that's now totally legal in Massachusetts. And it's a better, more sustainable way to raise crops based on hydroponics and the latest LED technology.
Guests at the event encountered a bizarre new feature of the state's legalization law: A legal waiver. Welcome to the party, please sign here, here, and here.
"In case you take a dab and bust your skull, Ardent's not liable," a hostess explained with a shrug.
"That's fucking stupid," a guest said. "Can you imagine a waiver at a drinking party!?"
"Baby steps," the hostess gently reminded us before resuming waiver duty with each and every one of the 400 or so guests on hand. It was a quiet reminder that we're not fully there yet.
The celebration had a signature drink, the so-called Wild Harmony. Bacardi Rum, cherry vodka, Midori, and sweet and sour mix. It was smartly presented in a snifter, rim dusted with purple sugar. Proceed benefit low income children in Massachusetts' luridly onerous medical marijuana program. So the heartburn from the five-alarm sour mix? Totally worth it!
But this wasn't a drinking party. Indeed, there was a living-room sized gas-heated outdoor tent for all things cannabis. It was all rather glamorous.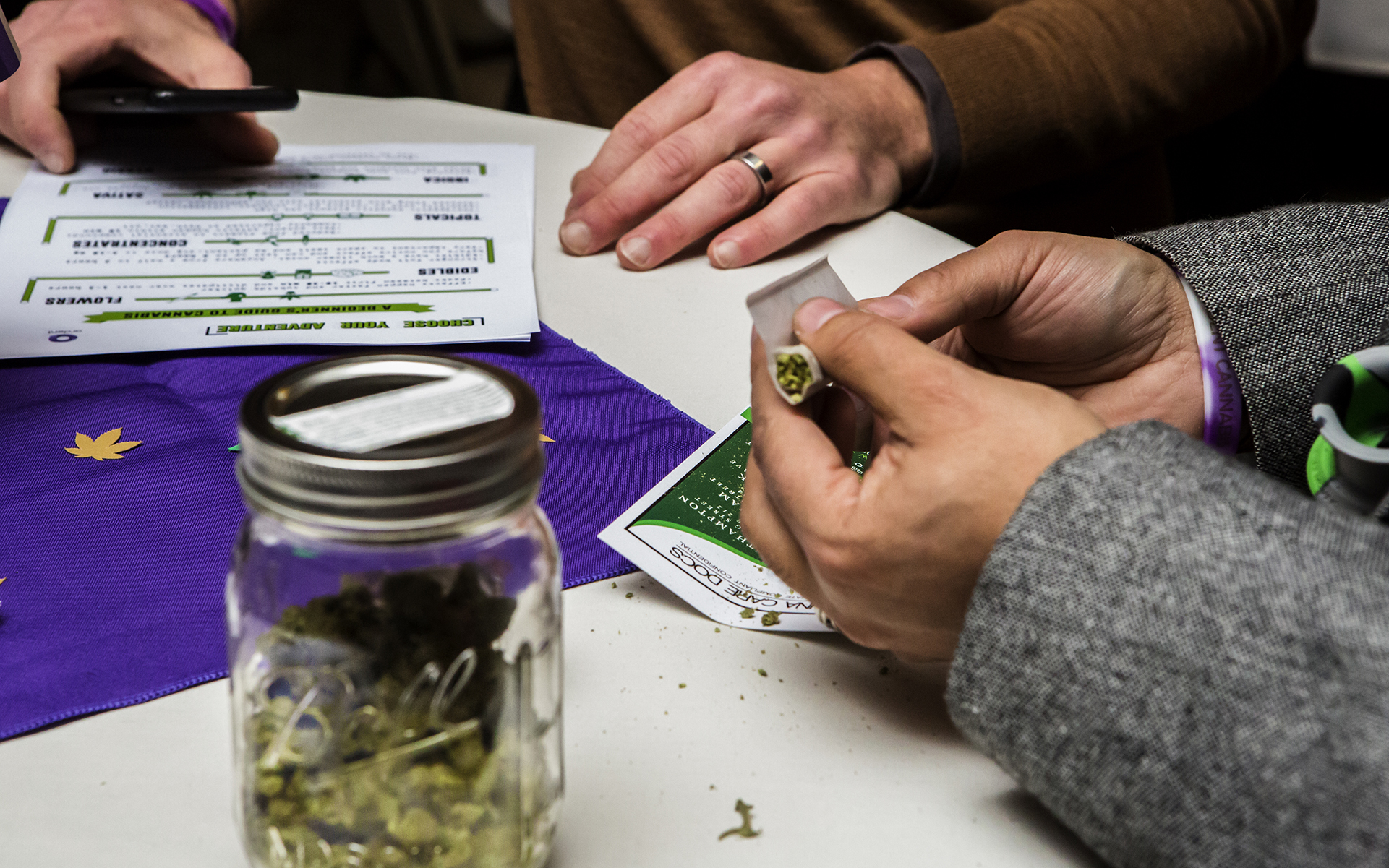 A guest rolls one of the first legal joints in Massachusetts during the post-prohibition celebration. Photo courtesy of Ardent.
One of the booths was all business. MCR Labs in Framingham tests cannabis for purity and potency. This is especially important for medical cannabis users who often must take an ad hoc approach to their medicine. Sick people don't have to mess with crappy brick weed anymore. Patients deserve no less than a rigorous, scientific approach to maximize the relief cannabis brings each individual patient. For them it's about more than just a buzz.
Just past the lab table was a display of cherry-flavored edible taffies. I pocketed one or two for later.
The start of a new culture
Over the course of the evening I realized that a brand new culture was taking root. Right here, right now.
It sounded a lot like haughty hipster wine talk. You know what I mean. Only it's not wine, it's cannabis.
"Oh my, what a lovely, delightful full-bodied sativa! Tastes like Blue Dream, but with a hint of diesel. And I'm living for those earthy afternotes! Where was this grown? Aspen!?"
Can you imagine discussing the terroir of the brickweed that dominated the market a generation ago?
Nobody has to drink shitty wine or cheap sour coffee anymore. At a certain point we realized something better was available. And people would pay a tiny bit more for the good stuff. It's called mainstreaming. We did it with wine. And then we did it with coffee.
And now in Massachusetts we're doing it with cannabis.