Marley Natural launched their line on February 6th (Bob Marley's 71st birthday) in Southern California, then in Northern California and now they have moved up to Oregon where they launched in Portland just this week. They have a line of sun grown flower, pre rolls, oil cartridges, smoking accessories, and body care products. The flower and extraction is all done in the Applegate Valley of Oregon, and falls into 4 categories of flower for Marley:
Marley Green: Hybrid (Burmese Kush)
Marley Gold: Sativa (Columbian Gold)
Marley Red: CBD (Harle Tsu)
Marley Black: Indica (Romulan)
The strains listed above in the parentheses are specific to the Oregon market, and each label will vary from state to state depending on the farm. The labels (Green, Gold, etc) and the type of cannabis they hold (Hybrid, Sativa, etc) will stay the same.
Anton Albrand, general manager for Marley Natural, said of the flower, "We are more quality specific than we are strain specific. We take input from the growers at the farms we work with regarding which flower will best fit into each of our labels." Marley Natural is not currently coming into any direct contact with the flower that is grown in Oregon, but leaves that work to the experienced Oregon growers they have partnered with. However, the brand is not tied to or exclusive with any farms.
You may recall from TWB's post earlier this week that Marley Natural is one of the key sponsors for the Rise up Expungement Day event presented by the Minority Cannabis Business Association in Oregon that will be held in Portland this Saturday. Rise Up is actually owned by Marley Natural under their social mission giving platform.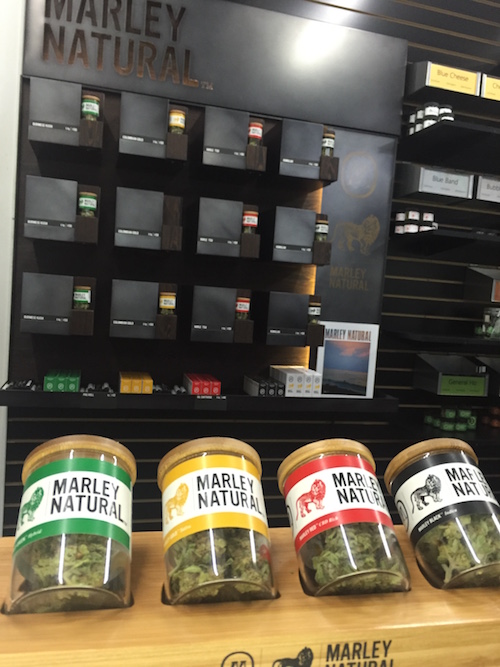 Zach Hutson, spokesperson for Marley Natural, said, "Our company wanted to include Rise Up as a big part of what we do for the cannabis sector. We wanted to mirror Bob Marley's values of environmental stewardship to disadvantaged communities and his values of social justice. There are 3 projects we already sponsor in Jamaica, and we are just going to build from there. We are really excited to partner with MCBA on this event."
Defy Ventures ,an entrepreneurship, employment, and character development training program for currently and formerly incarcerated men, women, and youth, is the organization Rise Up and Marley Natural has worked with in California.
Berrin Noorata, direction of public relations for Marley Natural, said, "A big part of the reason I chose to work for Marley Natural was because I wanted to be part of a team working towards ending cannabis prohibition in the U.S. Our brand has high standards for it's products and educating consumers is a priority for us. We also make sure to educate our company about how policy is ever changing for cannabis in the U.S. so that we can be stewards for this industry."
The launch of Marley Natural is something rather new to the Oregon cannabis market, as this is the first big "outside" brand of flower and oil to come into the market since the roll out of legalization has begun.
The launch took place at one of the Nectar Cannabis locations in Portland, where I was able to speak with their marketing manager, Michael Cathcart. When asked about how the brand was being received, Cathcart said, "We have had a lot of interest about the brand on our social media, but it seems like the general public is mixed. But, I think as people get to know the brand, and that this company is working hard to be part of the local community and be involved on a more personal level here, that the stigma will lift. They have been great to work with so far!"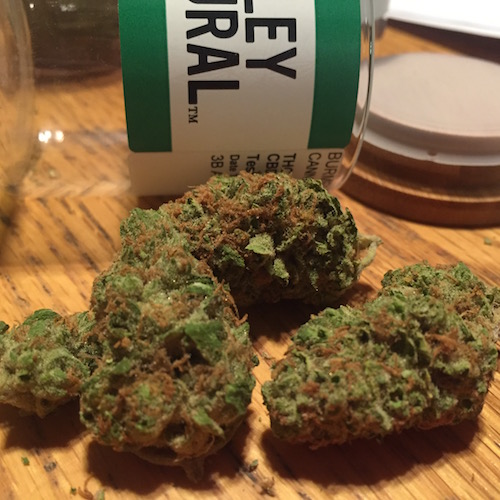 Currently, the most potent flower that Marley Natural is carrying in Oregon is their Green label (the hybrid), which is a Burmese Kush that tests at 25.56% THC.
You can find Marley Natural in all of the Nectar Cannabis and Serra Cannabis locations. If you are in Portland and want a first peak at their products and to meet with some of their staff, check out the party happening at Serra Cannabis on Saturday. The brand plans to expand to Washington next.
Follow Marley Natural:
Facebook @MarleyNatural
Instagram @marleynatural