While visiting Seattle for CannaCon 2017, I spent some time with two of my friends from PDX Weed Week, Max Montrose of the Trichome Institute, and Anthony Nitowski, the Dab Doctor. Max was there as both a lecturer and an exhibitor, and his small table was almost always crowded with folks learning about his classes as well as the TAG assessment of cannabis. If you don't know of his work, please visit his website and learn what is in store for objectively evaluating cannabis.
Anthony, on the other hand, was there as an attendee, to view new ideas and to rekindle acquaintances and friendships throughout the cannabis community. Once we hooked back up Friday afternoon, we caught a bus that shuttled folks back and forth to the parking lot. It was then a relatively short walk (for me, at least) to the party bus, parked along a city street and not on Federal property. It took only a few minutes for the Dab Doctor to setup one of his e-nail dab rigs and for us to begin vaporizing some extracts. I feel incredibly honored that Anthony trusted me with his rig and his product.
The bus was also stocked with a few refreshments and many packages of pre-rolled joints. Many folks came and went while I was there; many different joints made their way along both seating benches. Everyone seemed to be in a great mood and, although crowded, the vibe on the bus was upbeat. I stuck mainly to sampling the extracts that were being vaporized in the quartz bowl of the dab rig, but I will admit that I did take a hit or two of a joint as it floated by.
Saturday, knowing that I would be returning to PDX in the afternoon, I spent a couple of hours at the Pier before heading off to the party bus. This time the bus was being sponsored by Willie's Reserve, the cloud was thicker and the aroma was definitely more pungent than my experience on Friday. I did find Anthony's dab rig right where we had left it, and the choices of extract had increased. It was my intention to enjoy the tastes and effects of as many different extracts as possible; after all, I would be sitting on public transportation for many hours.
The aroma of the joints, as well as the visuals of the packaging, finally convinced me to pay attention and seek knowledge of Willie's Reserve. There were many empty samples of the packaging that Willie's Reserve employs use to get your attention and set the image of the product. The tubes are thick and substantial, and fit together very well. According to the representative with whom I spoke, all of the packaging is recyclable. Good to know, considering how much packaging there is.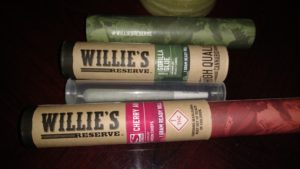 As an example of how my life unfurls, as I am floating away from the party bus on my way to the bus stop to begin my journey back to PDX, along the chain link fence separating city property from federal property I notice a blue cylinder, around the right size for cannabis as it is sold in Oregon. But I am in Washington. The container is from Oregon Bud Company and still holds a medium sized nugget of cannabis. The label states that it was sold as 2.0 grams of GSC. Thank you Universe.