YouGov recently released a new poll that indicates that more Republicans support marijuana legalization than oppose it.
Peter Moore, a pollster for YouGov, said in a statement:
YouGov's latest research shows that most Americans still support legalization of marijuana, and that support for legalization has increased slightly, from 52 percent in December 2015 to 55 percent today. Most of this change is a result of changing attitudes among Republicans. In fact, for the first time, Republicans narrowly tend to support legalization, 45 percent to 42 percent.
However, while the trend for Republicans has improved over recent years, surveys also indicate that Democrats and Independents are still more likely to support legalization. Democrats back legalization 63-25, Independents 55-33, and Republicans 45-42, according to the survey of nearly 1,000 US adults.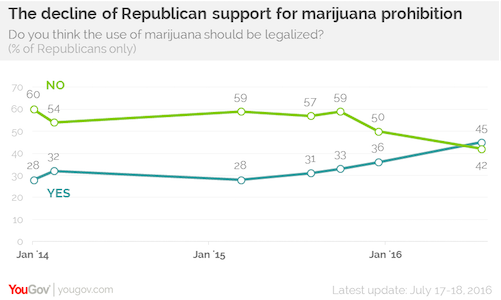 the findings are in line with what we've seen from other major polling firms, such as the Pew Research Center and Gallup. The overall trend is clear: With each poll, more and more Americans voice support for legalization.
Despite the progress, the Republican party struck down support of medical marijuana in their party platform. However, Donald Trump appears to be in support of medical marijuana. Only time will tell if the Republican attitude towards marijuana begins to shift, as it appears the polls are indicating.