Twenty-seven NFL teams begin their annual rookie mini-camps this week. These are the first days in what, for some, will be a short taste of life as a pro. More than 90 percent of all college football players wash out and never get to play in the league. For a few others, it's the start of a long and painful career. The physical perils of life as an NFL lineman, wide receiver, or running back are widely known.
For those rookies, this week marks the beginning of a never-ending series of choices about how to alleviate pain. Because every NFL player hurts after every game. Even punters.
Ask Chris Kluwe.
During his eight-year career, the outspoken Kluwe set a number of Minnesota Vikings club records in punting — and paid a heavy price. Kluwe underwent four knee surgeries as a result of the hits he took. And now, after retiring from football in 2013, he's speaking out about the role cannabis played in his health both in and out of the league.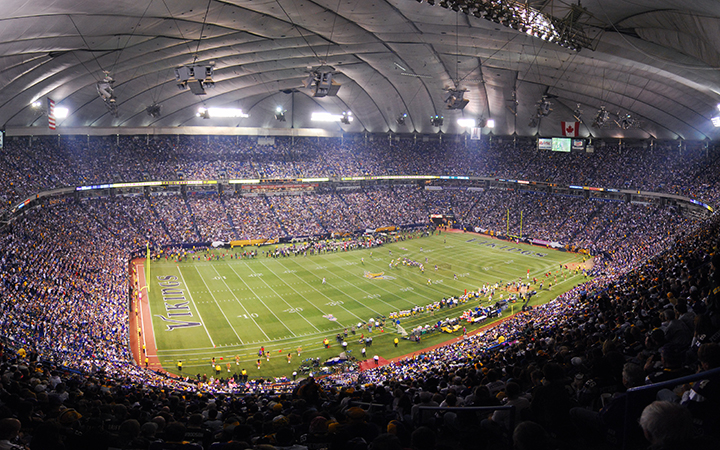 The Metrodome, the former home of the Minnesota Vikings and where Chris Kluwe spent much of his career. Photo by Bjorn Hanson
As a member of the Gridiron Cannabis Coalition, he fights to change the NFL's policy that disallows medical cannabis for current players.
In an interview with Leafly earlier this week, Kluwe said he's backing medical cannabis because he's seen firsthand how opiates can destroy lives.
"Like a lot of other guys, I used cannabis during my playing career because it helps take quite a bit of the pain away," Kluwe said. "I've seen what happened with a lot of the older guys — in terms of the guys who played during the '70s and '80s. They were hooked on pain pills, and we all saw how they turned out."

Punters aren't known for taking punishment, but Kluwe suffered several major injuries in his career. When he was rehabbing from surgeries, he found that cannabis provided a less addictive route to pain alleviation.
"I have had four knee surgeries from football," Kluwe told Leafly, and he was always wary of "getting hooked on OxyContin or Vicodin and then having to deal with that. For me, cannabis was just an easier and safer alternative, especially in the long term."
The Price of Fighting the Shield
Kluwe's willingness to speak out about a controversial issue will surprise no one familiar with his career. During his time with the Vikings, Kluwe was one of the most outspoken players in the league. He wasn't afraid to take a public stand on social issues, including LGBT rights and cannabis legalization, and was one of the very few players under contract to speak out against the NFL brand, a.k.a. "The Shield."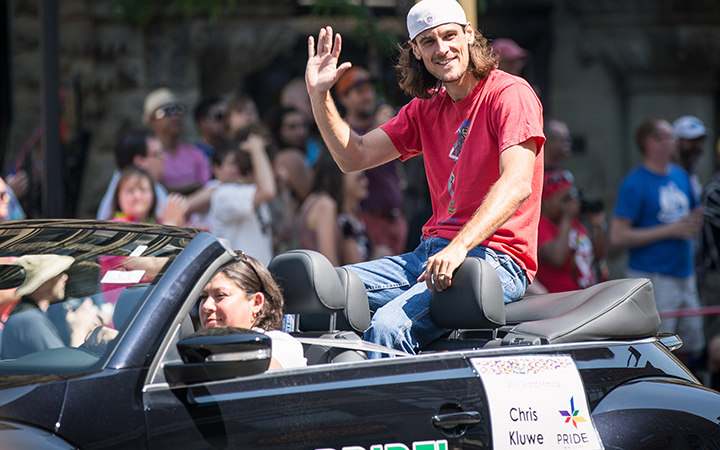 Chris Kluwe served as grand marshall for the 2013 Twin Cities Pride Parade in Minneapolis. Photo by Tony Webster
In fact, Kluwe was essentially fired from his job as Vikings punter because he was too outspoken. As with any major corporation, the higher-ups in the NFL would rather the players just focus on playing the game and stay out of social or political issues. We've seen this recently in other sports as well, with the NBA and WNBA fining players for their public support of the Black Lives Matters movement.
"We are talking about an industry that pulls in over $10 billion in revenue a year, and it only gets bigger [each year]. Along with that comes the corporate mindset: If you are a part of the machinery, then just be a cog in the machine," Kluwe said. "Don't speak up, don't make any noise, don't draw any attention to yourself — because that might cost us a customer, it might cost us profit, it might affect our quarterly earnings. There is this pressure to just go out and play football, be quiet and don't do anything else, which I think is rather unfortunate.
"All of us playing the game are human beings, just like everyone else. We have interests and lives outside of football. We care about things that are not just football, and I think it is very important for players to be able to share that."
Ultimately, Kluwe believes, it will take a transcendent star to speak out in order to actually change league policy. Kluwe cited the recent efforts of the now-retired Baltimore Ravens lineman Eugene Monroe, who has been a vocal proponent of medicinal marijuana in the NFL.
"If you're one of those transcendent talents — someone like Aaron Rodgers or Tom Brady — then you can get away with quite a bit more," he said. "Eugene Monroe, he was a pretty talented guy. He was a pretty good offensive lineman. Usually those guys last until they just don't want to play anymore, because it's hard to find good offensive linemen. So here's a guy who's been pretty good — maybe he goes through an injury or two, but teams are looking at him. If they see, 'Oh, he spoke out on something [controversial], like cannabis,' then they don't want to have to deal with it. They'll move on find someone else."
The NFL's Drug Test "Is Really an IQ Test"
Kluwe was penalized for his outspoken views on social issues, but, curiously, never for using cannabis during his playing days. The answer is simple, Kluwe said: The NFL drug testing system is really an IQ test. If you fail, you likely have a problem.
"That is actually one of the things that the NFL's drug testing program does kind of have going for it," he told Leafly. "If you get caught smoking weed, then you probably have a problem. You know exactly when the test is coming. The league's testing [period] starts — ironically enough — on April 20. Then the testing window extends all the way through training camp."
The league's drug testing regimen was pretty well known among the players, Kluwe said. "Generally, they either test you within the first week, when the testing period starts, or they test you the last week of training camp. If you get tested in the first week—well great, you are good to go the rest of the year. If you don't get tested, well, you know it's coming during training camp."
So when you read about NFL players getting popped for failing the league's drug test, like Cleveland Browns wide receiver Josh Gordon, who's been popped on multiple occasions, it's a fair bet those failures could've been avoided.

These days Kluwe is working with the Gridiron Cannabis Coalition on the starting phase of a new study the group is sponsoring. The study is based on CBD oils, and, according to Kluwe, the participant list includes quite a few former NFL players.
"Can [this study] help alleviate pain for guys who have had long playing careers and had some rough things happen to their body? That's something I'm more than happy to participate in," Kluwe said. "The thing is, you see all these old PSAs saying marijuana is a gateway drug. Not really. OxyContin and Vicodin are gateway drugs."
"If you run out of your prescription [for those opioids], you go get heroin. Marijuana is — yeah, you are going to sit on your couch and eat some Funyuns, but it's not going to lead you to meth or cocaine."