For more than 40 years Daniel Morii documented sustainability efforts and the Cannabis movement. His works reveal many storylines across Hawaii and in his own neighborhood.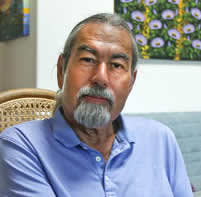 Daniel Morii was also successful in business. He and a small group of friends created a commune in the heart of Haight-Ashbury. Unbeknownst to many, that small group of hippies would eventually create and run the largest Apple reseller group in North America. Daniel also served in the Vietnam War, zipping body bags. Daniel's life, perspectives, and friendships spanned geography and genere.
A call from Daniel would usually include the words, "hey, let's get together" and would often end with "looking forward." Daniel chose projects that revealed the things that matter most in life. From intimate interviews to large events, Daniel was there with camera in hand. When asked a deep question Daniel would respond with a simple answer like, "ohh, I don't know… what do you think?" Humble beyond words, Daniel always seemed to find a way to coax the subject into providing the answer. Often the answer would come when a camera was rolling. In those moments, deep shifts occurred later rippling through the medium and message of others.
Daniel assembled our dispensary team, woke sleeping giants in Cannabis medicine and raised awareness among key decision and law makers. Daniel helped bring Cannabis science to Hawaii assembling the folks necessary for the first conversations about Cannabis research at the University of Hawaii. Daniel quietly created opportunities and deep impacts for patients in the Hawaii legislature.
Daniel captured the essence of the story through the people he brought together often revealing characters and true spirits. Daniel's impacts were felt in the hearts of the subjects he documented and will continue to be felt across our communities over time.
---
As any pioneer learns, the first verbalization of ideas falls on ears tone-deaf to change. Yet every instance of change catches fire from these sparks. Moments become stories retold over time. Through the efforts of a documentarian can we remember the images and words, the feelings and emotions that were truly present at the time. Through film, awareness shifts, a story can be seen, truths heard and consequences understood. Through Daniel's efforts perspectives are gained and the path forward becomes clearer. By listening to our hearts we can all be pioneers in a world that tends to forget the ethics, integrity, and values required for healthy change.
---
Daniel fought for a better planet through his own form of non-violent protest, story-telling. Leaving only time to reveal his greatest impacts, those who know Daniel and his work carry a sense of social justice and hope for a more conscious Earth. We can preserve learning moments and create new stories of love and compassion. Daniel wanted to change our stories of death. By starting a Death Cafe, Daniel is helping others understand, communicate and work through death. Removing the taboos and smoothing the difficulties we feel about death is something we can all do to honor Daniel's work. Daniel is survived by his wife Shari, his ohana and a wide network of friends. We can follow the legacy Daniel gifted, together.
Additional Resources:
TrueGreenMedia.com
Daniel was sharing his story through regular installments published by Stephens Media in the Hawaii Tribune-Herald.
Written by Brent Norris