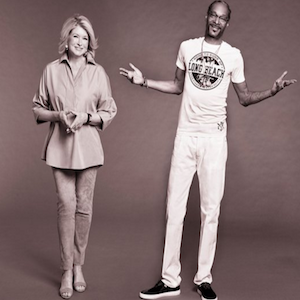 Get the Gin & Juice ready, grab your cups and pitch in, Snoop Dogg has teamed up with Martha Stewart to bring a new show to VH1 this fall.
The unscripted show will be entitled, Martha & Snoop's Dinner Party. The series will focus on the odd-couple bringing their celebrity friends to a dinner party each week.
"At our dinner party, we will exemplify America's fascination with food, entertaining and celebrity," Stewart said. "'Martha & Snoop's Dinner Party' will redesign the traditional food competition shows in a new, different and very funny way."
Snoop Dogg added, "My homegirl, Martha and I have a special bond that goes back. We're gonna be cooking, drinking and having a good time with our exclusive friends. Can't wait for you to see how we roll together!"
The show does not have a explicit marijuana-theme. However, anyone that has listened to music, watch tv, or existed on Earth in the past decade knows Snoop's position on the plant. Stewart also once famously claimed, "I know how to roll a joint." So, although the show doesn't feature marijuana in the forefront, it's sure to be a recurring subject.
Snoop and Stewart have a long history together, with the rapper appearing multiple times on Stewart's talk show, and both appearing in last year's roast of Justin Beiber.
The hip-hop star is also an executive producer and guest-star of the upcoming scripted comedy "Mary + Jane" through his Merry Jane company for VH1 sibling MTV.