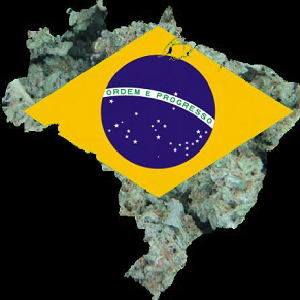 Written by Mark. M Ward for Dope Magazine
Brazil takes their illegal substances, or lack thereof, exceedingly serious as the Brazilian criminal code states, "Selling and transportation of any illegal drugs, as well as possession or cultivation of larger amounts is characterized as drug trafficking, a criminal act punished with 5 to 15 years in prison and a significant fine." Recently, the California-based company Medical Marijuana, Inc. (MMI), has become the first enterprise to legally import CBD oil into this Latin American country for epilepsy treatment and other conditions. Naturally, as I researched this momentous news out of Brazil, I became ecstatic to write the piece. I dove into the research process and in doing so realized the privilege that it was to be recounting such a remarkable event. Despite being an offense punishable under Brazilian law, one family would stop at nothing for the sake of their daughter's health.
The story begins in Dallas, Texas. A little girl, Harper Elle Howard, is diagnosed with a rare non-hereditary disorder known as CDKL5 epilepsy and starts experiencing seizures at two-weeks-old. Around 19 months, the frequency of Harper's seizures increases rapidly—there are days where she has more than 40 seizures. Being that "traditional" pharmaceuticals were ineffective and could result in catatonia, her mother Penny Harper did what any mother trying to save their child would do: Anything. In 2013, after watching Dr. Sanjay Gupta's special Weed, Penny proceeded to undergo countless hours of research and stumbled upon CBD oil derived from hemp called Real Scientific Hemp Oil (RSHO). After purchasing and administering RSHO, Penny immediately began noticing improvements, "Within just three days Harper was displaying progress such as eye contact, verbalization and attempted physical interactions…She was now able to show us that she was with us mentally and as a mother this meant the world." Harper's seizures quickly diminished and before long she went day after day without an episode, until she was finally 60 days free of seizures and making mental contact. During an interview, MMI CEO Stuart Titus voiced to me, "There is tremendous stress and burden with not being able to communicate with a special needs child, but within 3-4 months of administering RSHO, personalities developed as well as smiles and laughs."
Four thousand miles from Dallas, a Brazilian mother, Katiele Fischer, was also conducting countless hours of research. Her daughter Anny was suffering from CDKL5. During her search for answers, Kateile stumbled across Penny's Facebook blog, Hope 4 Harper and the news of Harper's success with RHSO. Fearing that her only recourse was to resort to what was considered drug trafficking, Katiele quickly had RHSO shipped to her home illegally. She had relatives with documentation from a doctor and lawyer acquire the CBD oil necessary to treat her daughter's seizures. The RSHO was quickly administered and what seemed to be another miracle transpired, the seizing episodes ebbed—illegally importing CBD oil allowed Katiele to heal her daughter. It wasn't long before Katiele was caught illegally importing CBD oil.
In April 2014, Katiele braved the steps of ANVISA, Brazil's FDA, and recounted the relentlessness of her daughter's seizures, and how within nine weeks of using CBD oil, Anny's seizures waned to "almost zero." Katiele's courage brought her face to face with the Brazilian federal government. She sued them for the right to access RSHO to save her daughter. Katiele won her case in under three days.
Read the full story at DopeMagazine.com